SPECIALIST'S IN WELDING, FABRICATION SERVICES AND CLASSIC PADDOCK PRODUCTS
Ex GP and WSB Engineer, Alf Mossell is now available to make or modify to your specification:
Frame Modifications
Swing Arms
Sub Frames
Motorcycle Radiators
Fuel Tanks
Oil Tanks
Exhausts
Brake Caliper Adaptor Plates
General Modifications & Repairs
Race Bikes
Race Replicas
Street Fighters
Cafe Racers
Starter Rollers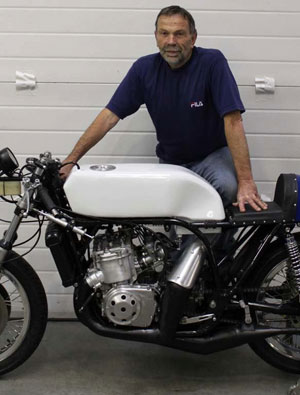 One-off's, machining and welding a speciality.
Having worked on many satisfied customer machines as well as restoring his Suzuki RG500 and building a Suzuki TR750 replica, Alf can understand that parts are not always readily available. Whether you are restoring, modifying or building your bike from the ground up, using his skills he is able to work with you, to achieve exactly what you are looking for.
Our Gallery shows many examples of work we have carried out, we are here to help you!
Please call us on 07802 735579 to discuss your requirements or use the contact page for more information.